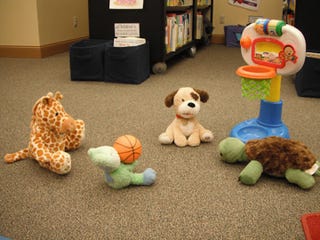 Wherein NBA basketball is viewed as a series of actions and decisions independent from the often-misleading result. We don't care if the ball went in the basket - we care if the right play was made.
Have a look at this play, from Saturday's Mavericks/Pelicans game in New Orleans. It's illustrative of a couple different realities of the 2014 NBA season, the first of which is that the Mavericks are a terrifying matchup nightmare for opposing defenses, such that even relatively ho-hum offensive stuff they run can bend and twist defenses beyond recovery.
Here J.J. Barea has the ball on the wing. Note that the floor isn't spaced all that dangerously, and note also that Anthony Davis, God of Our Hearts, is guarding Dirk Nowitzki at the weak-side elbow.
The ball is worked down into the corner before coming back out to Barea. Brandon Wright is on the block, and Devin Harris has leaked over to the weak-side wing. Most importantly, the big German is positioned as the screen man on a pick-and-roll, and that's always trouble.
Dirk is a terrifying perimeter shooter. If Davis were to sag back to prevent dribble penetration, Dirk would pop to the three-point line and rain hellfire on the Pelicans' defense. Most teams will have Dirk's man stay all the way up at the point of attack, but, of course, this makes the defense vulnerable to a roll to the hoop or a blow-by move from the ball-handler. To offset those risks, it's important that Dirk's defender get up the court and change the ball-handler's path around the screen, forcing him to turn away from the hoop and giving his defender time to squeeze over or under the screen and recover. This is a tall task, asking an NBA big to jump out on a guard, force him up the court, and then recover to Nowitzki, either rolling to the hoop or popping out for a catch-and-shoot three-pointer.
Anthony Davis, of course, is no mere mortal. With his length and athleticism, he should have no trouble blowing up the pick-and-roll and then recovering to old man Dirk anywhere on the court. Just gotta nail that first part — slow down Barea:
Or, you know, stand there like a traffic cone while Dirk gobbles up Austin Rivers and Barea runs free.
Here's the second most important lesson from this play: for as wonderful as Anthony Davis already is, and, my God, he's something else altogether, there is actual room for improvement in his game. Can you even imagine. It's still apparent at times that he's thinking his way around out there, and this was a moment that called for instant recognition and decisiveness. He's late here, in a way that is, ultimately, hilarious:
LOOK OUT AUSTIN RIVERS!!!
With this half-hearted and way-too-late lunge, Anthony Davis has managed to screen his own teammate. Not so good! Not very good at all.
That is one blasted apart defense, right there.
Speaking of young players being silly, have a look at this sequence, from Friday's fun, competitive Blazers/Kings game, in Sacramento:
Darren Collison handles, Rudy Gay and Reggie Evans clog up the paint, and DeMarcus Cousins lurks around the elbow for a potential pick-and-roll. Let's keep an eye on Ben McLemore, who, to this point in his NBA career, just doesn't have a clue at all.
So far so good, Ben! And I'm not even talking about the part where he's the farthest player on the court from the basketball! The ball has found its way to Cousins at the left elbow, and McLemore is sliding over towards one of the very best and most valuable spots on the entire floor: the wide open weak-side corner. As has been beaten to death here and elsewhere, an open three pointer, even from an average three-point shooter, is one of the very best things an offense can generate during a possession, and here McLemore, a talented shooter by reputation, is positioning himself for a wonderfully open look. Now it's on Cousins to see the whole floor, recognize a contorted defense, and make the right pass: